Brave Girl: Clara and the Shirtwaist Makers' Strike of 1909
By Michelle Markel, Melissa Sweet (illustrator),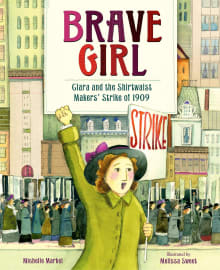 Why this book?
Brave Girl is the amazing story of Clara Lemlich and the Shirtwaist Makers' Strike of 1909. Clara, a young Jewish immigrant who could not speak English upon arrival in New York, was instrumental in fighting against poor treatment of textile factory workers, leading the largest walkout of women workers in US history. Clara embodies 'being able to do what you put your mind to,' spending long hours studying, working, and advocating for downtrodden workers, fighting for fairness. This book not only inspires activism, but provides readers with a glimpse into the harsh realities of past working environments. Told clearly and sensitively, Brave Girl is a wonderful blend of historical content, engaging story, and imaginative illustrations. This book should not be missed!

---