The Therapy of Desire: Theory and Practice in Hellenistic Ethics
By Martha C. Nussbaum,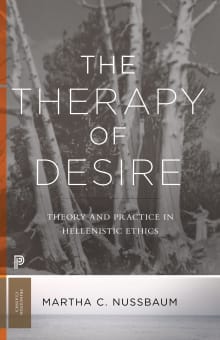 Why this book?
Each chapter in this book wrestles with central themes of Hellenistic Philosophy, which includes Stoicism, but also Epicureanism and Skepticism. The essays are wonderfully written, and deal with pressing eternal problems, such as the political significance of anger, and the nature and pitfalls of physical pleasure. Dr. Nussbaum relates the Stoics and other Hellenistic philosophers to pressing contemporary issues and concerns.
---