The First Edition of the New Testament
By David Trobisch,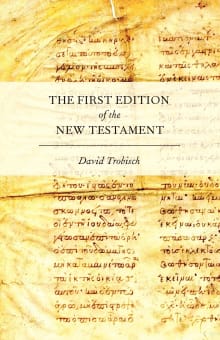 Recommended by R.G. Price
From R.G.'s list on the (actual) origins of Christianity and Judaism.
Trobisch is a highly respected Net Testament scholar, and his insights are on full display in this short, but important, work. The exact origins of the New Testament have long been shrouded in mystery. Many people think of the New Testament as a collection of independent writings. Here Trobisch provides an important framework for understanding the New Testament as a whole. He reveals many important clues about who, when, how, and why the first edition of the New Testament was created. Trobisch shows the overall unity of the editorial features of the New Testament.
---