Detroit's Cold War: The Origins of Postwar Conservatism
By Colleen Doody,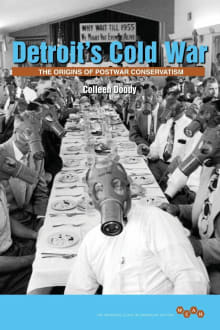 Why this book?
I like this book because it forces us to rethink what the Cold War really was. The book identifies key figures in anti-communist crusades in post-World War II Detroit: workers, white homeowners, city officials, Catholics, and manufacturing executives, and argues that the core elements of their "anticommunism" were not fears of Soviet incursion, but sociocultural tensions at home that derived from drastic changes in wartime and postwar Detroit, which observed a sudden influx of African Americans, Southern whites, and immigrants. 
Thus, the book argues that Cold War Detroit's "anticommunism" was not a new development in the postwar era, but a continuation of what had previously been labeled anti-unionism, white-supremacism, anti-secular Catholicism, and anti-New deal sentiments, all of which can be characterized as expressions of ongoing "anti-modernist" tensions within American society. Such a reexamination of Cold War anti-communism is significant because it could open up new territory for rethinking what anticommunism really was, and, by extension, what the Cold War really was.
---