Securing Sex: Morality and Repression in the Making of Cold War Brazil
By Benjamin A. Cowan,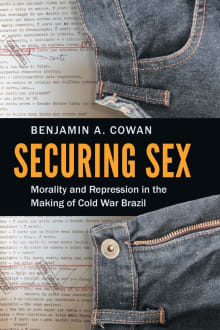 Why this book?
This book contributes greatly to the global history of the Cold War by showing that "moral technocrats" during the military dictatorship in Brazil equated political subversion with sexual subversion: Anticommunist countersubversion included anxieties about gender, sex, and youth. South American Cold War dictatorships have been traditionally understood as modernizing projects but Cowan complicates the definition by exploring the moral panic, and consequent calls and attempts at repression, related to the sexual revolution, new forms of female sexual expression, and pornography. 

---