Alfred Adler's Basic Concepts and Implications
By Robert W. Lundin,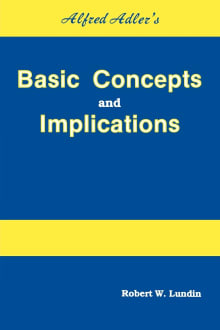 Why this book?
I stumbled upon this book when I researched the psychology behind my first novel (the protagonist goes to therapy sessions). Although most psychologists follow Jung, I decided to make the therapist in my book an Adlerian psychologist. Why? Because Adler studied the criminal mind and posed interesting theories of how we follow a "faulty pattern of life" set forth from the time we are children. Kids develop defense mechanisms that allow them to cope with a given situation (violent parent, cloying parent, bullying at school, etc.) The problem is, as the kids grow up, they forget that these "patterns" they've cultivated were based on survival and may not guide them in the right direction. To be happy, people may have to rewire their brains. Good stuff! And I used the heck out of it. 
---