Pop. 1280
By Jim Thompson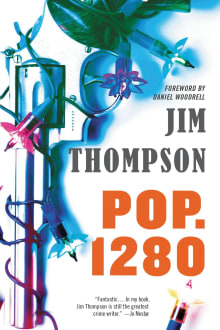 Why this book?
A true American original and unheralded classic. The gold standard for nihilistic American crime fiction. This novel blew me away when I first read it in my 20s, and I wondered how anyone could write like this, burrow so deeply inside a psycho's head, and still be so damn funny. It's one of the bleakest American novels ever written, featuring yet another thoroughly amoral character. But not at all likable!
Psychopath sheriff Nick Corey knows nobody in tiny Potts County wants to follow the law so he does as little as possible, playing a dimwitted hick. He's got problems with local pimps and the sheriff of an adjacent county. He's got problems with his girlfriend's husband. He's got problems with his wife and her brother who are a little too close for brother and sister. With an election coming up, Nick needs to fix his problems and fast. How? Well -- it ain't pretty. Nick becomes unhinged and believes he might be Jesus come back to Earth to dispense justice. Amen, Big Jim. 
---
When you buy a book we may earn a small commission.