On a Beam of Light: A Story of Albert Einstein
By Jennifer Berne, Vladimir Radunsky (illustrator),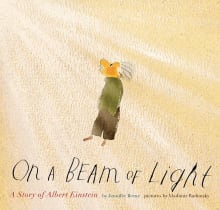 Why this book?
I know from personal experience just how hard it is to tell the life story of a highly accomplished person (Michelangelo, for example) without burying young readers in an avalanche of details and facts. With On a Beam of Light, Jennifer Berne (with the help of the brilliant Vladimir Radunsky) has achieved the impossible—she has written a book about Albert Einstein that is simple, charming, and clear while giving readers the most important thing they need to know about the world's most famous genius: how his mind worked.
Albert is always asking himself questions. He watches sugar dissolve into his tea, the smoke from his pipe disappears into the air, and wonders how that could happen. He decides that "everything is made out of teeny, tiny, moving bits of stuff." "Even this book," he says in a word balloon, "is made of atoms!" Jennifer Berne has done a truly masterful job with this very difficult subject. If I could only recommend one book, this would be it.
---