When Marian Sang: The True Recital of Marian Anderson
By Pam Muñoz Ryan, Brian Selznick (illustrator),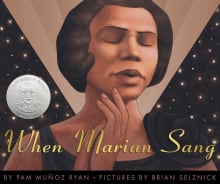 Why this book?
A timeless tale of artistic and moral courage on the part of a legendary singer (Marian Anderson, 1897-1993) and an unforgettable First Lady (Eleanor Roosevelt, 1884-1962). Particularly relevant today, the text and illustrations highlight both the power of Art in a public setting--The Lincoln Memorial, 1939, with an integrated audience of 75,000 people--and the heart-centered activism of two remarkable women who effected a shift in the national consciousness.

---