The Right Word
By Jen Bryant, Melissa Sweet (illustrator),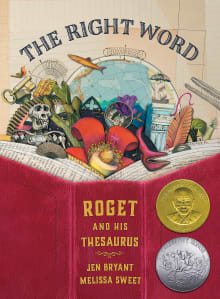 Book description
2015 Caldecott Honor Book

2015 Sibert Medal Winner

For shy young Peter Mark Roget, books were the best companions -- and it wasn't long before Peter began writing his own book. But he didn't write stories; he wrote lists. Peter took his love for words and turned it to organizing…
Why read it?
2 authors picked The Right Word as one of their favorite books. Why do they recommend it?
Brenda Z. Guiberson
Sometimes pencil and paper and a lot of scribbling can reveal a passion. As someone always searching for the right word, I love this book. Young Peter Roget became a word collector when he discovered that words "were powerful things." With a passion to find the best word, the one that really fits, he made lists. At 8, he wrote his first book, but it was not a story. He wrote lists. Then he wrote more lists. A lifetime of lists. His efforts to create one place where everyone could find just the right word are illustrated scrapbook style in…
Diane Stanley
Kudos to Jen Bryant for choosing such an original topic—Peter Roget of thesaurus fame—and pulling it off so perfectly. And Melissa Sweet takes her excellent book and transforms it into a playful work of art, a veritable feast for the eyes, with everything from elaborate collages to comic strip sections with word balloons. Synonyms abound, as in a street scene where people say things like, "My fish is cheap, a bargain, reasonable," or "Do you need your chimney cleaned, swept, swabbed?"
The Right Word invites you to stop and study the details on every page and rewards you with endlessly…