How Long 'til Black Future Month?: Stories
By N.K. Jemisin,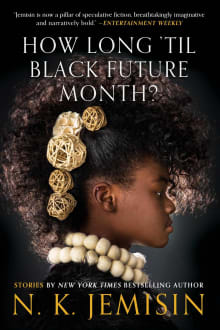 Why this book?
A collection of twenty-two short stories by award-winning author N.K. Jemisin. The themes range from time travel to environmentalism and magical fantasy.
The narrative is bold, the tone unapologetically political and Jemisin's sharp retelling of known classics (like Ursula K. Le Guin's "The Ones Who Walk Away from Omelas") shows how it is possible to create great science-fiction/speculative fiction in a more grounded reality… our own.
I remember my first interaction with N.K. Jemisin's work. The Fifth Season. There was this… parallel with the conditions I was brought up in. Castes, barriers to social mobility, a persistent violence tightly intertwined with the beats of our lives. It was raw, detailed. It appealed to my insecurities, my fears, my battles.
Jemisin brought back her signature style in this collection, but this time around there is hope; there is a positive outlook, an ocean of wonderful possibilities. At the time of my reading, I could relate to this shift in narrative (my life began turning around), to a more hopeful vision that (still) had preserved the staples of Jemisin's celebrated writing: a keen eye for details, an unparalleled world building, characters of a thousand facets; some shattered, volatile and shifty.

---