Media Secrets: A Media Training Crash Course
By Jess Todtfeld,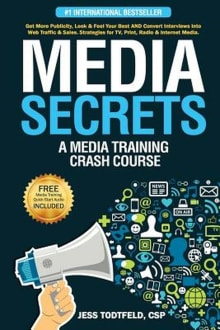 Why this book?
When I arrange for my clients to do a radio or podcast interview, some sell books, while others do not. Why is that?
In many cases it's the little things said during an interview that make people want to buy that book. That's why Media training is important, because what good is landing an interview if you can't get the listener/viewer to take action and buy the book? If you take your interviews seriously then read this book. Besides learning tips and techniques you'll gain confidence which is an important element of any interview. This book is for anyone who is planning on getting media coverage including: Authors, C-Suite Execs, Politicians, and Sports Figures. 
The author Jess Todtfeld worked as a national TV-News Producer at NBC, ABC and FOX News. He coached guests on how to look and sound good for years. Now he brings that experience to his book which is filled with solid advice.
As a book publicist, I recommend this book and give it to my clients to read. Nothing could be more useful. 
---