The Black Stranger: And Other American Tales
By Robert E. Howard,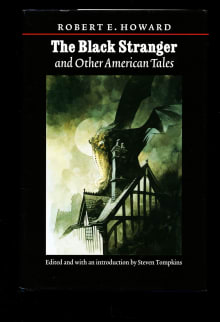 Why this book?
Best known for creating Conan The Barbarian, Howard fathered the weird western genre with his seminal 1932 short story "The Horror From The Mound," collected here along with "The Thunder-Rider" and "Old Garfield's Heart." Reading these early genre mashup stories of conquistador vampires, reincarnation, and Native American magic in high school was like tasting peanut butter and chocolate for the first time. They made new notions bloom like a field in my mind. You could take the gritty frontier of Lonesome Dove and introduce an element of the magical fantastic, and if you respected both genres, come up with something entirely new. I especially appreciated the culture clash of the frontier.
It's something I explore a lot in my own work; that disparate peoples meet, mix, and come away changed by the encounter. This is an idea that Howard, who adored research and folklore, represents pretty well in "Old Garfield's Heart," where a mortally wounded white man benefits from a Native shaman's folk magic...until he doesn't anymore.

---