This Is How You Lose the Time War
By Amal El-Mohtar, Max Gladstone,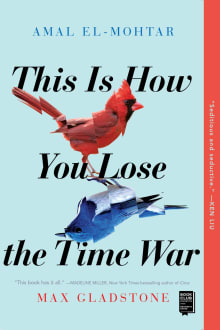 Why this book?
I am loathed to say, I had to put this book down at first. The writing was there, but it was a confusing mash-up of–I don't even know how to describe it: post-apocalyptic, post-gender, romance-spy thriller, time-warping science fantasy? Usually too convoluted for me. But that writing…it was so poetic and eloquent that I gave it another go and was rewarded for it. Told from dual perspectives, two spies out to destroy one another in rotating dimensions, taunt, tease then fall in love with one another by leaving the most undiscoverable letters, letters so deep in wanting and loneliness that their pain becomes ours. This quick, but rich read ends as a tour de force and a hallmark of team writing.  

---