Twelve Mile Bank
By Nicholas Harvey,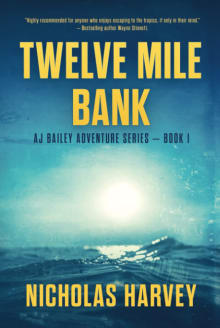 Recommended by Sharon Ward
From Sharon's list on mysteries set on a tropical island.
The Cayman Islands are my favorite place in the world, so a mystery featuring a female divemaster on Grand Cayman is right up my alley. AJ Bailey, the protagonist, is a realistic portrayal of a woman in a man's world. Many books in the tropical islands have female protagonists, but they are often gun-toting, knife-wielding super-models, not realistic women like Harvey's protagonist. 
The diving details are spot on; the dive site descriptions are accurate; and the thrilling story will keep you turning pages to the very end. A great start to a super series.
---