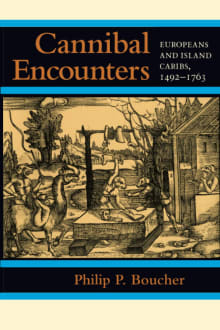 Cannibal Encounters: Europeans and Island Caribs, 1492-1763
By Philip P. Boucher
Why this book?
Boucher contributes to our understanding of two aspects of Caribbean history, the activities of French colonizers and the history of the Carib (or Kalinago) native peoples of the eastern Caribbean. Although Cannibal Encounters addresses imperial policies and warfare (in line with an older scholarship), it also reveals the importance of the indigenous peoples to the early interactions in the Caribbean basin. In particular, the rivalries between the French and the English played out in the context of confrontations, alliances, and betrayals involving the Kalinago.

From the list:
The best books on the early modern global Caribbean
When you buy a book we may earn a small commission.