Making Refuge
By Catherine Besteman,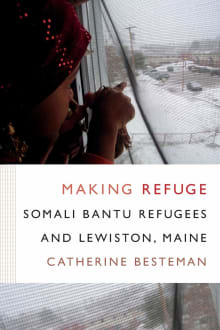 Recommended by Nell Gabiam
From Nell's list on refugees in or from the Middle East.
Making Refuge focuses on Somali Bantu refugees who were resettled in the town of Lewiston, Maine in the early 2000s. These refugees had been the focus of Besteman's earlier research in Somalia in the 1980s. About a decade after Somalia plunged into civil war, Somali Bantus were being resettled in the United States, enabling Besteman to physically reconnect with them. One of the strengths of this book is that it provides rich historical context, giving the reader an overview of the different stages of the refugee experience: the events leading to war and displacement, life in refugee camps in Kenya, and resettlement in the United States.
Making Refuge is also one of the few books that gives ethnographic insight into the refugee resettlement process in the United States. Through its focus on the challenges faced by resettled Somali Bantus, who are Black and Muslim, it questions the assumptions underlying the…
---