Tribe: On Homecoming and Belonging
By Sebastian Junger,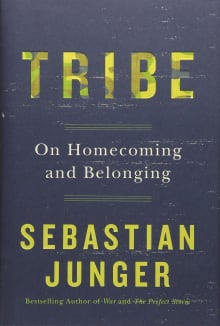 Why this book?
In my ongoing interest and research into the nuances and issues surrounding war throughout history and the modern age, it wasn't long before I discovered Sebastian Junger's work. His award-winning documentaries Restrepo and Korengal are honest, visceral forays into his time embedded with an American infantry unit in Afghanistan. He's a well-respected journalist with a thoughtful, compassionate eye for the complexities of combat. I chose Tribe for its unique contemplation – supported by anthropological and sociological studies – about the problem many veterans face reintegrating into society after their deployments.
Rather than taking up the common point-of-view that there is something "wrong" with the vets, he posits that it is modern society that is the actual fundamental problem, that it is society's broken systems and lack of community thinking, its separation from the lives of warriors that compound and exacerbate any sort of short-term trauma military veterans experience. This is a necessary read not just for people interested in war and its effects, but for anyone who desires a deeper understanding of the toll modernity has taken on humanity as a whole.
---