Power vs. Force
By David R. Hawkins,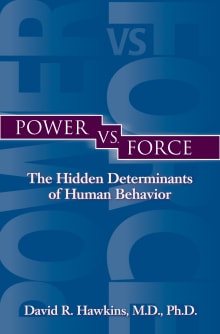 Why this book?
Science meets Philosophy meets Spirituality. 
Through his 'Map of Consciousness', Hawkins shares a powerful, mind-opening way of interpreting and understanding the different levels of consciousness available to humans, and explores how to transcend out of destructive patterns into higher, more positive, and life-supporting states of being.
The clarity and accuracy of the way Hawkins examines consciousness through kinesiology is so fascinating, awakening, and almost undeniable because it's been so thoroughly tested.
For people who are already sensitive to the different energies that we cultivate, dwell in, and are driven by, this book makes sense of so much of the mystery around what we can feel but not see.
---