Quiet: The Power of Introverts in a World That Can't Stop Talking
By Susan Cain,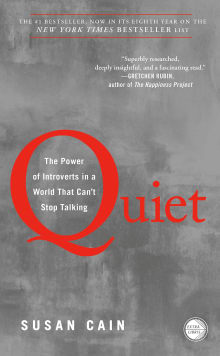 Why this book?
My doctor and therapist, a clinical Psychologist, recommended I read this book. Because she thought it would help me understand people who are fundamentally different from me - introverts. She was right. This book opened my eyes to an entirely novel way of experiencing the environment. I am an extrovert.
I have been called "pig-headed, arrogant, narcissistic, [and] just like your father." This, by a woman I once loved. Okay, by more than one. My doctor doesn't disagree.
Susan Cain's book is important. She wrote it to empower introverts. However, I think extroverts should also read it. Quiet could be taken as a screed against extroverts. Cain asserts the world's problems are the result of extroverts being in charge. Because we're loud, intense, and domineering. That's without a doubt partly true for the reasons she lays out.
I don't agree with all of Cain's assumptions and conclusions. Nevertheless, the book dramatically helped me see the peopled world more clearly. It has helped me to adjust my behavior to a more compassionate and accommodating approach. Quiet can help us all to live more balanced lives, and thus make the world a better place.
---