Meditations: The Annotated Edition
By Marcus Aurelius, Robin Waterfield (translator),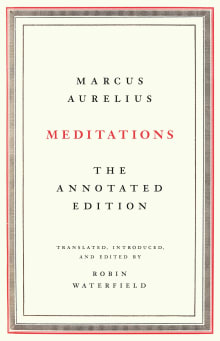 Why this book?
Can you imagine being the ruler of most of the known world, a Roman Emperor, and yet still having the humility to look deeply within your own soul? Here was one of the most powerful men there ever was, who offered his personal reflections on learning to practice understanding, kindness, and acceptance. His concern was about becoming a better man, not a bigger man. 
"If you work at that which is before you, following right reason seriously, vigorously, calmly, without allowing anything else to distract you, but keeping your Divine part pure, as if you should be bound to give it back immediately; if you hold to this, expecting nothing, fearing nothing, but satisfied with your present activity according to Nature, and with heroic truth in every word and sound which you utter, you will live happy. And there is no man who is able to prevent this."
---