The Complete Stories
By Flannery O'Connor,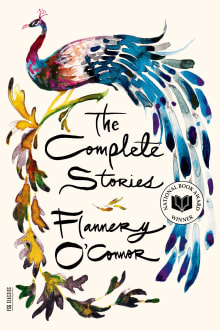 Book description
Winner of the National Book Award

The publication of this extraordinary volume firmly established Flannery O'Connor's monumental contribution to American fiction.

There are thirty-one stories here in all, including twelve that do not appear in the only two story collections O'Connor put together in her short lifetime--Everything That Rises Must…
Shepherd is reader supported. We may earn an affiliate commission when you buy through links on our website. (learn more)
Why read it?
3 authors picked The Complete Stories as one of their favorite books. Why do they recommend it?
Thersa Matsuura
Southern Gothic author Flannery O'Connor is an incredible storyteller with characters often described as grotesque and morally flawed. Having been raised in the South, I find her characters so real it is as if I know them or have met them personally.
I know she disliked any of her stories being labeled 'horror' and instead called them 'hard'. But you have to admit that a lot that happens naturally in life is indeed 'horror', so I use the term as a high compliment to her. But that alone would be too much, so she tempers it with her sardonic wit…
Mark Alpert
Flannery O'Connor was one of the best American short-story writers and totally obsessed with God and questions of belief. In her story "A Good Man is Hard to Find," she paints an unforgettable portrait of the Misfit, a murderous criminal tortured and infuriated by religious doubt. Without concrete evidence of God's existence, the Misfit feels free to go on a killing spree, exacting vengeance on a deity that refuses to reveal itself. In "Revelation," a self-satisfied believer is confronted with a vision of Heaven that looks nothing like what she'd expected. O'Connor uses shock and Gothic horror to jolt readers…
Liam Milburn
I turn from a brooding Irish context to a Southern Gothic context, and still the narratives here will rip into everything you hold dear, to the point where you are no longer sure who you are to begin with. This is a good thing, as none of us should be content with who we vainly think we are. 
"'Wait here, wait here!' he cried and jumped up and began to run for help toward a cluster of lights he saw in the distance ahead of him. 'Help, help!' he shouted, but his voice was thin, scarcely a thread of sound.…