Crocodile on the Sandbank
By Elizabeth Peters,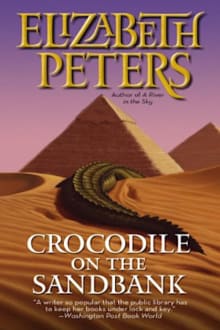 Why this book?
I am a sucker for dry wit and feisty independent heroines who aren't looking for love but find it as an incidental to the story. I first read an Elizabeth Peters novel when she was writing as Barbara Michaels. 
Once I discover an author I love I have to read everything they wrote. I found out Barbara Michaels had another identity— Elizabeth Peters. O Frabjous joy! Another author to devour! I read Crocodile on The Sandbank and fell in love with her takeoff on Victorian literature and her intrepid heroine, Egyptologist Amelia Peabody. Crocodile on The Sandbank is the first book in what turned into a series spanning a thirty-nine-year period—1884 through 1923. I bought every book as soon as it was published. The only book of the series I own in paperback is Crocodile and I have lent it and/or given it away to so many people. In this first book Amelia journeys to Egypt to find a tomb to excavate and encounters a mystery and the brilliant irascible Egyptologist Emerson Radcliffe. She and her beloved Radcliffe are a romance for the ages. 
---