Magpie Speaks: A Navajo Nation Mystery
By R. Allen Chappell,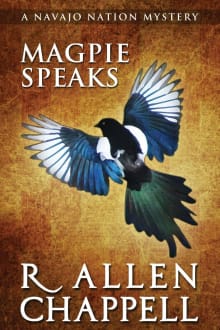 Why this book?
R. Allen Chappell's novel resonates with me from the reality of his depiction of life among the Navajo, reflecting his personal familiarity with the people. His protagonists portray diverse, very human characters with all their inherent weaknesses and strengths, tested by the hard life on the Rez. In Magpie Speaks, Charlie Yazzie's unflappably grounded outlook balances Paul T'Sosi 's immersive belief in the old ways, a traditional way of thinking that permits the existence of witches who can cause him harm with their supernatural powers. His depiction of Harley Ponyboy, a sometime drunk ("just because I'm drinking now doesn't make me a drunk") is both sympathetic and alarming to me. Chappell's characters are real.

---