Introverts in Love: The Quiet Way to Happily Ever After
By Sophia Dembling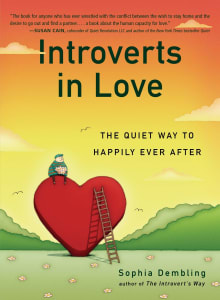 Why this book?
I had a great deal of respect for this author from reading her Psychology Today columns. Sophia Dembling is an introvert and from her research and personal experience knows that relationships between different personality types can be challenging to say the least. 
She takes us through all aspects of the dating process and doesn't slam extroverts. What she does is show us, through her great wit and transparency, how we are not perfect but that we can balance each other. 
Dembling teaches introverts "how to let someone into their hearts while honoring the solitude we need.." I found myself laughing many times, even while reading the table of contents. "Whee! Fun With Extroverts" and "I Love you But Please Don't Call Me." And she helps extroverted readers understand and empathize with introverts who don't find joy in too much socializing. 
---
When you buy a book we may earn a small commission.