White Hunter, Black Heart
By Peter Viertel,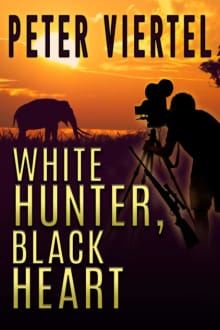 Why this book?
Novelist Peter Viertel, an uncredited screenplay contributor to three John Huston-directed movies, wrote one of the great Hollywood-adjacent novels in this 1953 classic backgrounded by the preproduction of a fictionalized film. Hint: it's transparently Huston's The African Queen and the "John Wilson" character is clearly John Huston himself. The book dramatizes the hell screenwriter Peter Verill (Viertel, of course) endures when the bigger-than-life director becomes more obsessed with hunting and killing a majestic elephant than in shooting the film he's been sent to make. 
Funny, marvelously readable, it's also rich with wry and knowing portraits of characters based upon Katharine Hepburn, Humphrey Bogart, and producer Sam Spiegel, the latter of whom says of Wilson/Huston: "In a well-ordered society, he'd be in a straitjacket now." Clint Eastwood directed and starred in a 1990 movie version. Skip that, watch The African Queen, then read this instead.
---