The Ten: The Stories Behind the Fashion Chassis
By Lauren Cochrane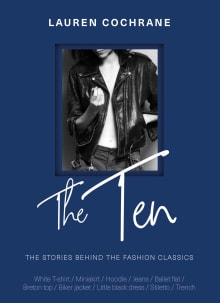 Why this book?
What connects the most important fashion styles over the last 80 years? The answer: the stories of those who made these clothing items fashion and trends, often globally. Lauren Cochrane illustrates lavishly this with a wealth of exactly these stories and plenty of pictures. These 10 classic fashion items are part of the universal language of style we all somehow know but not too much about them: The White T-shirt, Miniskirt, Hoodie, Jeans, Ballet flat, Breton top, Biker jacket, Little black dress, Stiletto, Trench.
Familiar, commonplace, ubiquitous - each piece has become an emblem of a certain style, carrying its own connotations and historical significance. They aren't just clothes - our social history is contained within these perfect 10 pieces. They're vessels that hold the history of style, politics, and identity: while trends may come and go, these are here to stay.
The Ten puts fashion in context. Showing how certain pieces are just as pervasive on the catwalk as on the street, Lauren Cochrane's crucial volume defines the fashion items that make up your wardrobe, and how they got there, providing the perfect excuse - a pedigree, a narrative, a realness - for the reader to wear them time and time again.
---
When you buy a book we may earn a small commission.