Lemonade in Winter: A Book about Two Kids Counting Money
By Emily Jenkins, G. Brian Karas (illustrator),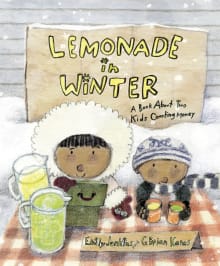 Why this book?
This sister-brother duo decides to earn money by having a lemonade stand, but how can they make their venture a success on an icy winter day? Advertising, entertainment, and a supportive neighborhood all come into play, but what will happen if the two don't turn a profit? This sweet, citrusy book is especially engaging for kids learning coin values and addition.  
---