Deception on His Mind
By Elizabeth George,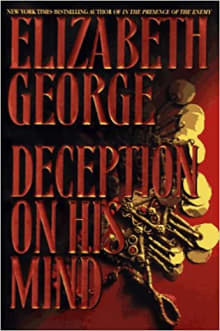 Why this book?
In this ninth installment of the Inspector Lynley series, Detective Sergeant Barbara Havers is recovering from a broken nose and ribs she earned on the job.
Throughout the series, Havers, has become friendly with the neighbors who lives in the front house, single father Taymullah Azhar, and his eight-year-old daughter Khalidah Hadiyyah. After the book's opening scene of murder, there's this lovely moment where Havers and Hadiyyah discuss the latter's invitation to take the police detective for ice cream.
The little girl comes over, reads about 'throbbing members' in one of Haver's romance novels, then announces she has to take back her invitation because she and her father are traveling to an Essex seaside town.
This scene, and this book, really delve into the relationship between a motherless girl and a loner cop, two people who unexpectedly need each other.