Let the Children March
By Monica Clark-Robinson, Frank Morrison (illustrator),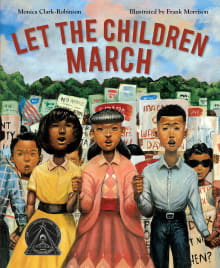 Why this book?
This beautifully illustrated book tells the compelling story of the 1963 Birmingham children's marches when teens and children put their bodies on the line to fight for civil rights. It opens with a child narrator listing things Blacks were forbidden to do, from attending "Whites Only" schools to drinking from "Whites Only" water fountains. Then the children attend a meeting with their parents, where Martin Luther King, Jr. discusses how they can end Jim Crow segregation. Their parents fear that activism could get them fired, or worse. The children step up.
The book narrates a child's experience of marching and facing harassment, arrest, and jail. The children of Birmingham were successful: their demonstrations led to desegregation in the city. The story concludes with the young narrator playing in a park that had previously been off-limits. The book's backmatter includes historical photos and a timeline. Though some violence is portrayed, this is an appropriate, and engaging, introduction to an important topic for young kids.
---