Squeak, Rumble, Whomp! Whomp! Whomp!: A Sonic Adventure
By Wynton Marsalis, Paul Rogers (illustrator),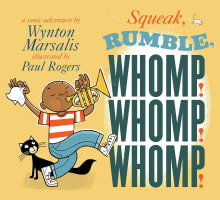 Why this book?
This picture book by jazz great Wynton Marsalis was one of my favorites to read to my little rock star when he was a baby. It's musical without being sing-songy, and celebrates everyday sounds like washboards or squeaking doors that become musical if you listen right. My son was mesmerized by the noises and rhythm, and I felt more musical just by reading it. 
---