Be Prepared
By Vera Brosgol,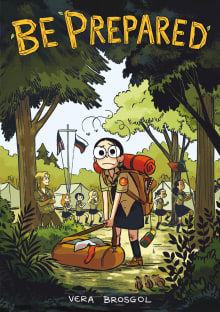 Why this book?
This book is about a kid who goes to sleep away camp for the first time with the intention to make friends and be closer to her culture. However, things don't go so well. 
Vera Brosgol is a fantastic storyteller mastering facial expressions and acting. Her environments, as well, are rich and specific to the region where the story takes place. And yet they never out-stage the characters. 
On a separate note, I appreciate Vera Brosgol deliberately putting Russian signage and having some dialogues in Russian, as it shows the two linguistic worlds in which she lives.
---