The Longest Day: The Classic Epic of D-Day
By Cornelius Ryan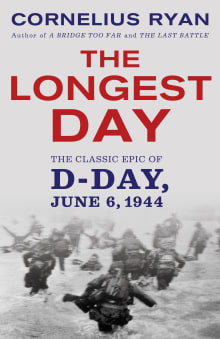 Why this book?
If Cornelius (or 'Connie') Ryan were ever to stumble across one of my war histories (too late, I fear… he died in November 1974.) then he might recognize it as an act of hero-worship. Certainly, he's my hero. The Longest Day is history as it should be told:: exciting, detailed, clear-headed, and page-turning. It's the story of the D-Day landings which marked the beginning of the end of World War 2 in Europe, told from both the Allied and the German perspectives.
It derives its title from a famous remark by Germany's Field Marshal Erwin Rommel before the very risky Normandy landings had begun. June 21 is, of course, the longest day of the year in the Northern Hemisphere. But Rommel warned before the battle was launched on 6 June 1944: "For the Allies, but also for the Germans, it will be the longest day."
Bizarre fact: when the book was filmed in 1962, it was necessary to assemble a huge fleet of fighting ships to recreate the invasion force. On the day this scene was shot, the film's producer Darryl F. Zanuck became the 20th most powerful nation in the world
---
When you buy a book we may earn a small commission.