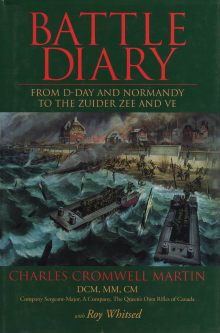 Battle Diary: From D-Day and Normandy to the Zuider Zee and VE
By Charles Cromwell Martin
Why this book?
On June 6, 1944, Charles (Charlie) Martin was twenty-four and one of the youngest Company Sergeant Majors in the Queen's Own Rifles. He was also one of the first Canadian soldiers to pile out of a landing craft onto Juno Beach in the face of heavy German machine-gun fire. From that day on the beach to when he was finally wounded for the first time on April 16, 1945, Martin was always at the forefront of the battle. While an excellent account of his combat experience, Martin also deeply examines the role of a Company Sergeant Major in leading and…
From the list:
The best books by Canadians on their World War 2 service
When you buy a book we may earn a small commission.