Unknown Valor: A Story of Family, Courage, and Sacrifice from Pearl Harbor to Iwo Jima
By Martha MacCallum,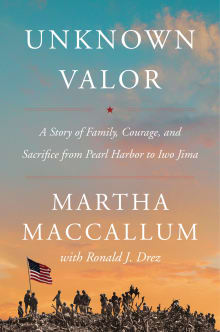 Why this book?
I was putting the finishing touches on my book when I came across Unknown Valor in 2020. Like my book, Martha MacCallum's was about an uncle she never knew who was killed at Iwo Jima. There was a lot of history about the Pacific Theater, as well as personal stories of those who served with her uncle. Like my book, except mine was about the European theater. Letters her uncle wrote home were sprinkled throughout the book, just like in my book. The anguish of her uncle's death on his family was beautifully told. Just like I tried to do in my latest book.
A strong recommended read if you want to know more about the fate of soldiers during WWII in the Pacific.
---