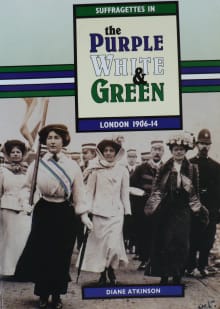 Suffragettes in the Purple, White and Green: London 1906-1914
By Diane Atkinson
Why this book?
Purple, white, and green are the colours of the WSPU regalia. Suffragette ephemera fascinates me, especially their merchandising (soap, chocolate, board games, chinaware - all sorts of things). I first heard of it at a presentation by Diane Atkinson. This book is the catalogue of an exhibition she put together when she was a curator at the Museum of London. An excellent resource, it's full of images with pointers for where to find more. Ephemera is great for giving a sense of period, so I asked the artists on the graphic novel to cram in all they could.
From the list:
The best books on the lives of suffragettes
When you buy a book we may earn a small commission.