Thirteen Plays of Bhasa
By A.C. Woolner (translator), Lakshman Sarup (translator),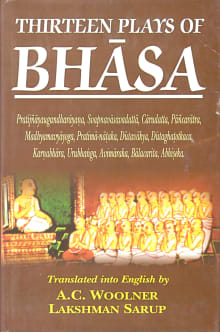 Recommended by Anand Neelakantan
From Anand's list on Indian mythology.
Bhasa, the ancient Indian poet and dramatist, who lived two thousand two hundred years ago, was perhaps the first one to think of an alternative ending to Mahabharata in his play, Pancharatra. His Oorubhanga was the first play to be sympathetic to Duryodhana, the antagonist of Mahabharata. In Pratihna- Yaugandharayanam, one of the classical Sanskrit plays in this collection, a wooden elephant in which soldiers hide is used, making us wonder whether the Trojan horse was inspired by this ancient play or vice versa. No one has reimagined Mahabharata more boldly than this dramatist of antiquity.

---