One Billion Journeys
By Wang Fuchun,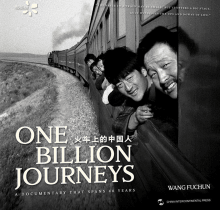 Recommended by Adrian Bradshaw
From Adrian's list on photojournalism books on China.
Spontaneous photojournalism has not been a feature of the People's Republic as the state-run media prefers rigid control of any media message. One of the most distinguished early practitioners of documentary photography to challenge this dull approach was Wang Fuchun. His book on life on the long-distance trains that trundled across the country delighted and informed first his compatriots and then the world. Most of the journeys he witnessed were in the age before mass tourism and are a far cry from the world-beating high-speed trains of the 21st century. It feels like ancient history but steam-powered locomotives were still produced in China until the 1990s, the last country to give up the coal-burning dinosaurs.

---