Rescuing Da Vinci: Hitler and the Nazis Stole Europe's Great Art - America and Her Allies Recovered It
By Robert M. Edsel,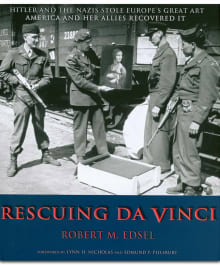 Why this book?
I chose photo books for my list because I often use photos to help me as I write—either to construct a scene or to provide detail. Because my books are set against the backdrop of the Monuments Men's work, this book was really the starting point for my writing the trilogy.  
Edsel presents a methodical overview of the vast scope of Nazi art theft in Europe, the destruction wrought on its monuments, and the enormous task of restitution and rebuilding. Seeing the sheer quantity of looted art stacked ceiling-high in endless rows and the faces of the men and women charged with making it right helped me put their work into my fictional work.
---