Twenty Letters to a Friend
By Svetlana Alliluyeva,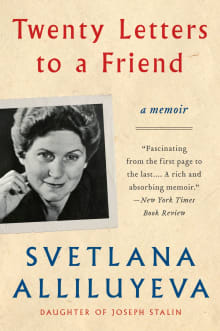 Recommended by Simon Mawer
From Simon's list on or around the Cold War from a child of the Cold War.
Svetlana Alliluyeva was Josef Stalin's daughter. In 1967 she fled to the West bringing this memoir with her. It was published to universal acclaim in the same year. An epistolary memoir it gives remarkable insight into her life growing up in the Kremlin. Haunting, at times lyrical, always affecting, she shows Stalin as something other than the monster we take him to be. She makes no excuses for him but it is salutary to see him portrayed as a father and a human being. An antidote to the all-too-easy dismissal of him as 'a monster'.

---