Masquerade
By Kit Williams,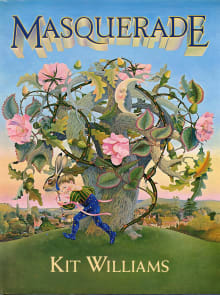 Recommended by Anne Lambelet
From Anne's list on picture books you can pore over for hours.
I'm not necessarily including Masquerade because of its objective quality as a picture book. It's the concept behind it that really captures my imagination. Similar to The Eleventh Hour, each illustration has a seek-and-find element as well as several embedded puzzles and codes. If you put all the clues together, they solve a mystery. However, unlike The Eleventh Hour, Masquerade's mystery wasn't originally relegated to the pages of a book. The solution revealed the location of a real-life buried treasure. You read that correctly. Author-illustrator, Kit Williams, actually went out in secret and buried a jeweled, golden hare at a location in Britain known only to him.
Since this book was published a few decades ago, the hare has already been found, but I think Masquerade still deserves to be on this list. Williams's illustrations are beautiful in their own right, and his ambitious idea inspired an entire genre of…
---