I Yam a Donkey!
By Cece Bell,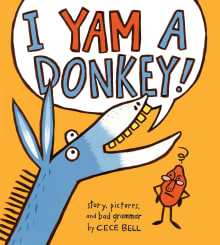 Recommended by Natasha Wing
From Natasha's list on talking food books.
When I hear bad grammar, I cringe. So this book was cringeworthy, but because it was done in a silly way to show bad grammar and how to correct it, it was very clever. A yam tries to get a donkey with poor grammar to speak correctly. When his vegetable friends butt in to see what the fight is about, the donkey has the last word.
---