The Minimalist Entertains
By Mark Bittman,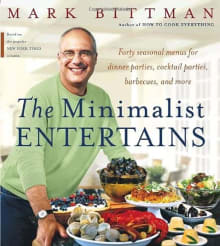 Recommended by Tara Bench
From Tara's list on cookbooks for entertaining.
This is the only entertaining book I'll ever recommend that doesn't actually have pictures! It would be blasphemous other than Mark is an expert recipe developer who churns out 40 menus for successful meals and offers a plethora of tips and helpful success secrets throughout. I miss the pictures but love how he organizes the meals by season. It's easy to narrow down the chapter you want to cook from, and the descriptive titles let you choose a menu based on the delightful sound of the recipe! You'll be thrilled to have these seasonal menus laid out for you, but they lend themselves well to inserting some of your own updated favorite recipes in place of canapes. Try his Pasta with Walnuts, or Chili-Fried Shrimp with Scallions and Orange, yes please!
---