The Young Housekeeper's Friend; Or, A Guide to Domestic Economy and Comfort
By Mary Hooker Cornelius,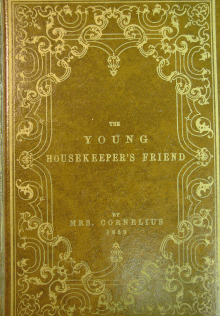 Why this book?
We consulted a wide variety of historical cookbooks while writing our book, but one in particular stands out: The Young Housekeeper's Friend (or as we affectionately call it, YHF), first published in 1846. It is actually mentioned by name more than once in Little Women, so it became our first point of reference for the recipes we wanted to include. YHF was quite popular in its day, and went through several editions–with good reason, as we discovered. Of all the cookbooks we used in our research, the recipes in this one were always the tastiest and most reliable.

Even though by modern standards the recipes are rather vague, she actually gave quite a bit more instruction than other cookbooks of the era, and many of the chapters include an introduction that goes into more detail about the overall theory of how to cook that particular type of food. During the process of putting together The Little Women Cookbook, YHF went from being a quaint vintage curiosity to a cookbook that's in active use in my kitchen. If you're interested in trying out historical recipes, this would be the place to start.

---