Multiple View Geometry in Computer Vision
By Richard Hartley, Andrew Zisserman,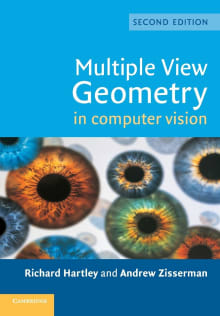 Recommended by Mark S. Nixon
From Mark's list on the best books on computer vision from 40-year veteran professor who wrote one.
Adding perspective puzzled artists in the fourteenth century; analysing perspective is integral to applied computer vision. You might have seen Hawkeye in action: the principles by which it works are explained superbly within this book. It was the first of its kind to set this analysis in a lucid and compelling format. Richard and Andrew's text will be on researchers' bookshelves for many years for its bedrock description of how we analyse three-dimensional scenes.
---