Cat's Cradle
By Kurt Vonnegut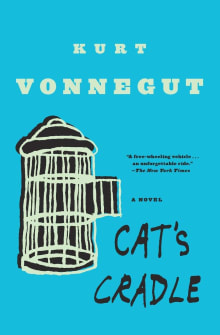 Why this book?
As an avid Vonnegut reader and aficionado, I can confidently recommend any of his fourteen novels. You've probably heard of his most famous work, Slaughterhouse Five. My personal favorites are Galapagos and Mother Night. But in terms of apocalyptic collapses of human civilization, I'd have to suggest Cat's Cradle as your next (perhaps, first) Vonnegut read.
Cat's Cradle was published in 1963 as a satirical commentary on technology and religion, specifically referencing the creation of the atomic bomb and its devastating impacts on the planet and its people. But even more devastating is Vonnegut's ice-nine, a solid crystal that turns any liquid it touches into more solid ice-nine. When some of this ice-nine accidentally falls into the ocean, all the water on Earth instantly solidifies, causing a mass extinction event and leaving only a few unlucky humans to fight for survival in the barren aftermath.

Everything Vonnegut writes borders on the absurd, so go into this read expecting a wild ride through a satirical universe filled with quirky characters and dark humor. I love this book and its wisecracking author. So Cat's Cradle goes on top as my number one recommendation for best books in which the whole of human civilization collapses overnight.

---
When you buy a book we may earn a small commission.