Children of Ash and Elm: A History of the Vikings
By Neil Price,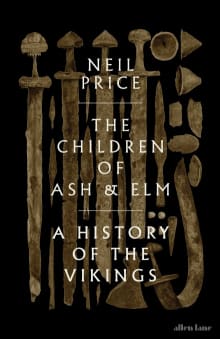 Why this book?
Neil Price was recommended to me by Marissa Lingen, a fellow science fiction author of Nordic descent with a passionate interest in Scandinavian history, and she was absolutely right. I have another of his books, The Viking Way, on my queue right now. 
This book is the modern social history of the Vikings that I always wanted and could never quite find before. It's gigantic, comprehensive, and focused far more on the personal lives of individuals than on endless lists of kings, wars, and begats--which differentiates it from others such as Kenneth Harl's recorded lectures at The Great Courses or Gwyn Jones' 
A History of the Vikings
, which was the first book on this topic I read. 
Price manages to unify archaeology, climate history, written history, and present a sweeping synthesis of the cultures and migrations of the Nordic countries in the late Iron Age and early Medieval period that brings alive individuals and motivations without descending into glorification. He makes the historical Viking culture real and present, makes plain the driving forces behind Viking expansion and their network of trade and reaving--but he doesn't excuse its atrocities. He manages to discuss the archaeological evidence without falling into the trap of presenting Viking navigators as nearly supernatural beings, and he doesn't shy away from 20th-century cultural appropriation of this history by fascists.
This is an excellent overall book that makes plain cultural drives for renown and the intimacy and personal integration with which the Viking world viewed its gods and spirits. It gives a good sense of Nordic fatalism and the idea that fate--wyrd--is not negotiable, but that we are in charge of how we meet that destiny, and that is what we ought to be remembered for.
---