Regional Advantage: Culture and Competition in Silicon Valley and Route 128
By AnnaLee Saxenian,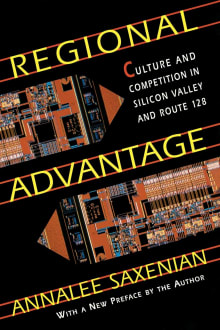 Why this book?
Until the 1980s, it seemed like Route 128 in Massachusetts was set to be the dominant location for the tech industry. What could have been a dry look at comparative corporate organizational structures is instead a compelling analysis of the contrasting cultures, business climates, and other forces resulting in the ultimate victory of Silicon Valley. The book is full of fascinating details that I haven't read anywhere else like the role that California community colleges played in ensuring companies could swiftly train new employees.

---