When Water Makes Mud: A Story of Refugee Children
By Janie Reinart, Morgan Taylor (illustrator),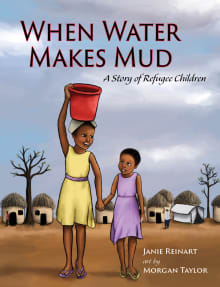 Why this book?
Janie Reinart's lyrical telling of this story, coupled with Morgan Taylor's beautiful illustrations, takes the reader on a ride filled with love and emotion. It's about refugee children who have, as the author says, "nothing but dreams." Big Sister wants Little Sister to be happy, so she decides she can create something from nothing. She makes amazing things, but they don't last. However, when Big Sister makes a mud doll, the two sisters play together, create other mud dolls, and continue to dream. What affected me the most as I read this is that this book is based on a real refugee camp, and proceeds are donated to UNICEF where our collective kindness can have the power to heal.

---