Caring for Your Lion
By Tammi Sauer, Troy Cummings (illustrator),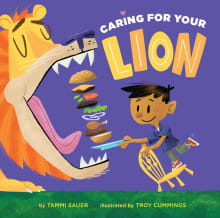 Why this book?
I knew I'd love this book as soon as I read the first few lines. "Congratulations on your new lion! We know you ordered a kitten, but we ran out of those." This hilarious how-to book provides the main character with all the instructions they need to care for their purrrrfect pet. The straightforward text pairs perfectly with the comical illustrations to show the chaotic reality of caring for an oversized feline friend. As someone whose own pets have brought both enormous destruction and enormous love, I found myself rooting for this fierce friendship. There are also tons of hilarious details in the illustrations. The pizza flavors alone will leave kids laughing and begging for more. This picture book is a roaring good time! 
---